During their stay at the Dębogóra Manor, our guests move into the idyllic scenery of the rural landscape. Surrounding fields, meadows, forests and ponds, in addition to respite from the hustle and bustle of the city and relaxation in nature, also provide the opportunity to admire the animal kingdom. The Highland breed cows that we raise are a permanent element of the Dębogóra landscapes. These long-haired and gentle creatures are an attraction not only for children. Apart from Highland cattle, you will also meet other farm animals and a friend of the house – the dog named Fafik. In the meadows and fields, you can admire colorful butterflies, grasshoppers, singing crickets and hardworking bees. Agritourism and animals are a natural combination that gives you the opportunity to return to the roots and experience nature.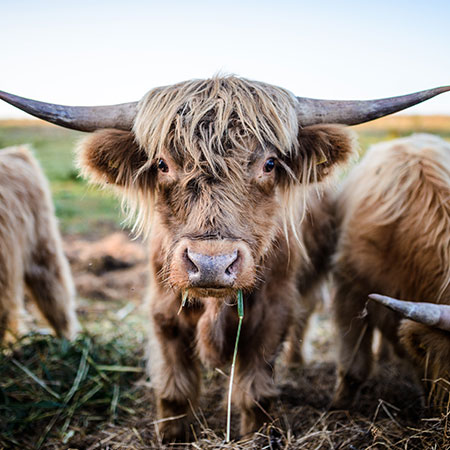 Highland Cattle Cows
These animals are visually attractive and picturesquely blend in with agritourism. Scottish cattle is not tall. Their multi-colored, long fur and lush manes are particularly liked by our guests. Highland cows are very good-natured and apart from being a wonderful decoration of the Dębogóra Court, they bring much joy to the youngest.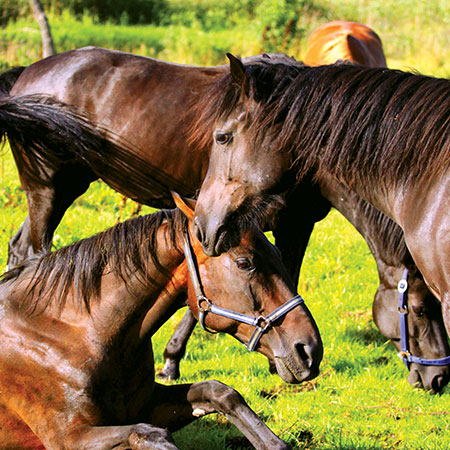 Horses
These wonderful animals, as part of our agritourism, are of educational value for the youngest and enrich the Dębogóra landscape with their beauty. On special occasions and events, they are also harnessed to a carriage, and in winter to a sleigh during sleigh rides that we organize. Our horses, like the whole area, are calm and enjoy peaceful lives.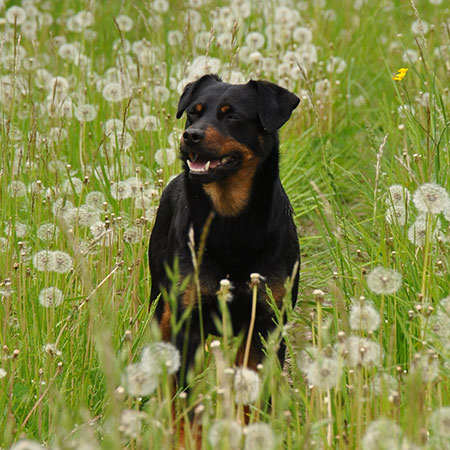 Dog named Fafik
A real friend is a treasure. And Fafik is not only our faithful companion, but also the rightful member of the family. Fafik warmly welcomes guests and together with us takes care of the atmosphere of the Dębogóra Manor. Fafik likes company both at picnics in the meadow or during afternoon tea on the barge, as well as during free time activities.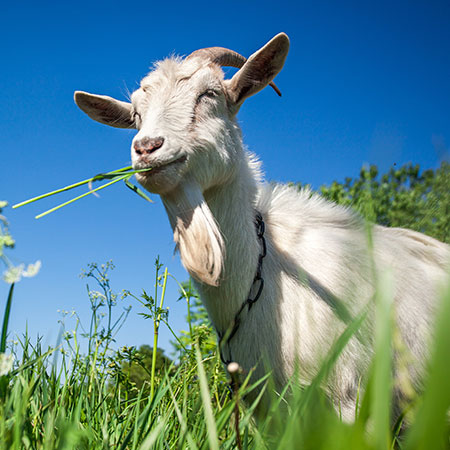 Mini Zoo
We know how fascinating farm animals are for the youngest. In order to satisfy children's curiosity of the world, we are creating a Mini Zoo, where it will be possible to feed goats and sheep, as well as help with caring for them. We will be happy to tell you about every animal, customs and interesting facts. Opening planned for the summer of 2019.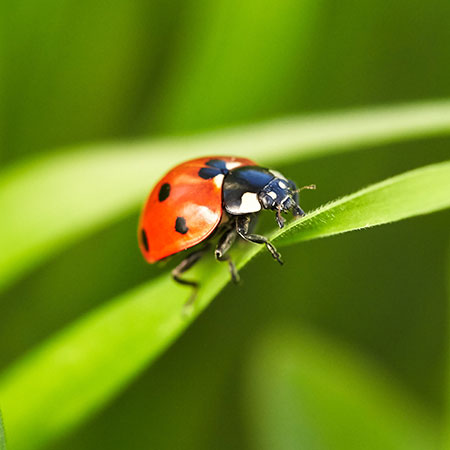 Field and meadow animals
When visiting Dębogóra, you will see how rich and lively nature can be. Lush grass and wildflowers are the natural environment for many species of reptiles, insects and birds. Colorful butterflies, bees collecting pollen, grasshoppers and ladybugs are our favorite neighbors. And the outdoor coffee accompanied by the singing of birds is our luxury.